3 Things
An artistic exploration of couture through material, color, technique... distinct objects, yet alike.
Presented monthly for purchase online and first Tuesday, 1-7pm in the Ann Arbor salon.

View 3 Things.
November 3, 2015 - Coq Feathers!
Mohair, cashmere and mousseline adorned with rooster feathers.
October 6, 2015 - Small Works to Plant
Installations for intimate spaces.
September 1, 2015 – 3 Garments, One Tea Towel and more Hemstitching

Garments with trim from a vintage linen towel include a dress neckline, a small jacket with facings, back insert and collar, and a shell.

2015 July - Hemstitching


An old-world finish on the straight grain begins with drawn threads pulled from the warp or weft of the fabric, then a series of stitches by hand. Worked on the dock at Muskoka, Canada and photographed in my garden.

To see the finished blouse, skirt and dress, view Products, 3 Things

2015 June - Silk Floral Blouses

Printed silk tops constructed with 1 yard of fabric. See details of each blouse, view 3 Things.
2014 March – Coq Feathers

2014 February – Ikats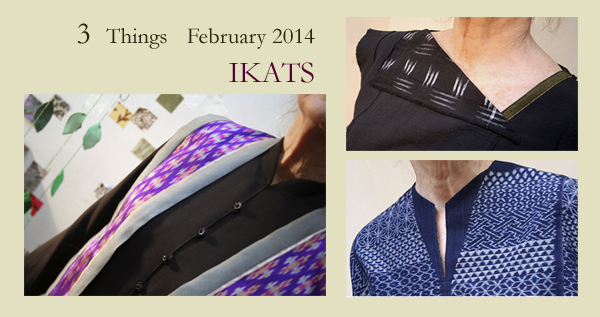 Ikat is a textile technique. Yarns are dyed in a determined manner prior to weaving cloth. Each garment is made with a fabric from a different country, all necklines have reversed facings.
2014 January – Felted Hats
Wool fleece is hand laid for each hat individually, adding color, or mixing fiber. Pretty and warm, silk lined with a grosgrain ribbon stay for fit. Other base colors in stock are available in beret style. Gray, camel, navy, red, pine or olive green, black and creamy white.

2013 December – Feather Scarves with Berries
Each piece has 3 vines of duck feathers, fiber and beads. Wear as a necklace or in your hair. Special order a variation in color or a different length.